1 Jun 19
Sisters of Europe - WARSAW event - Sisterhood, body dignity and the "superwoman" syndrome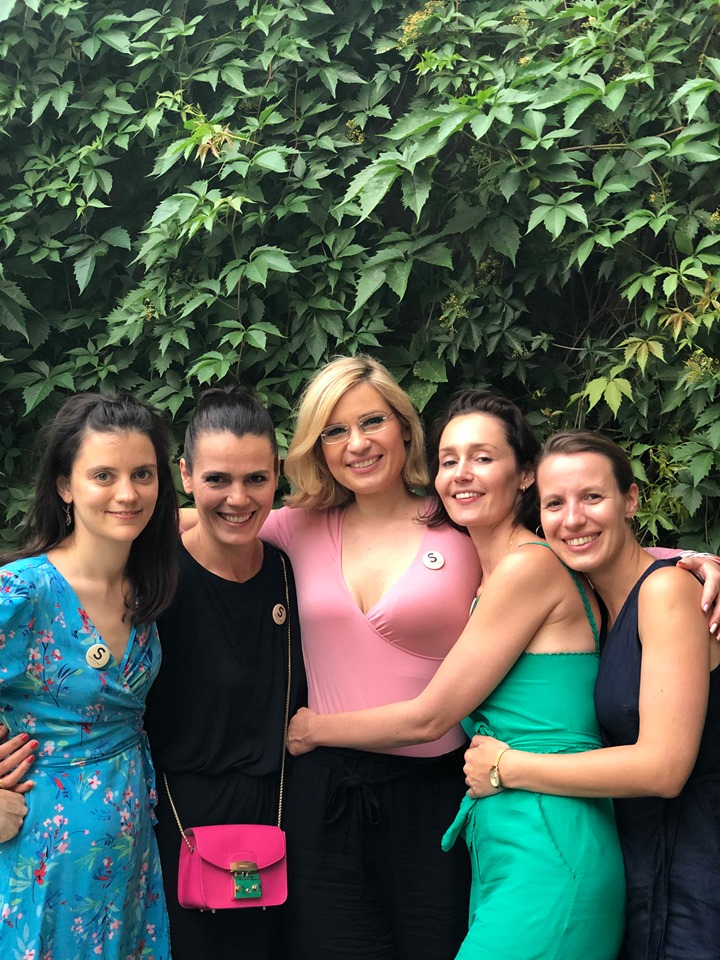 On 16 June 2019 our Warsaw event took place in Wozownia Bar, organized by Natalia Sosin, Marta Majchrzak and Marianna Grzywaczewska, aka the Sisters of Europe POLSKA.
During the event, topics such as sisterhood, relationships and roles as well as the "superwoman" syndrome were discussed in multiple panels.
Key takeaways: Polish women suffer from the superwoman syndrome. They handle everything under pressure, not selecting areas to manage. They believe that all spheres of life can be reconciled with one another, that they will not exclude each other (myth of consistency). On the one hand they feel exhausted, burnt-out, and irritated with the sheer amount of work and tasks, while on the other – guided by a sense of duty – they cannot even imagine that they could simply not do something (since such are the expectations of their loved ones, employers, or colleagues at work).
They are in a trap: although they frequently identify the division of duties at home or work as uneven, and dream of a partner or colleagues who would share them fairly, they also firmly believe at the same time that nobody would perform their tasks as well as they do. If they get somebody else to do something for them, they worry over whether it will be done as well as it should be.
By handling it all, they lose their peace of mind, while also gaining the feeling of being irreplaceable.Only some believe that the biggest feeling of sense in life is given by realising that not everything can be reconciled, and by shedding such expectations.

Here are some photos from the event and the names of the panelists:
12.15 ● PANEL ● SIOSTRZEŃSTWO ● WSPÓLNOTA:
Prowadzenie: Aga Kozak & Natalia Sosin Krosnowska
Prelegentki:
Sylwia Chutnik
Jolanta Barbara Jackiewicz
Beata Siemaszko
Gabriela Kurcińska
Agnieszka Muniak
14.00 ● miniPANEL
Kobiety bez diety
14.30 ● PANEL ● SIOSTRZEŃSTWO ● GODNOŚĆ –
Prowadzeine: Marta Majchrzak & Aga Kozak
Prelegentki:
Aleksandra Nowak
Paulina Klepacz
Jarmiła Rybicka
Anna Szapert
Paulina Czapska
Zofia Krawiec
Betty Q

16.15 ● PANEL ● SIOSTRZEŃSTWO W MEDIACH
Moderacja: Aga Kozak
ofeminin
Uroda Życia miesięcznik
wysokieobcasy
Vogue Polska
Zwykłe Życie
Ładnebebe
17.45 ● PANEL ● SIOSTRZEŃSTWO ● CIAŁO
Prowdzenia: Natalia Sosin Krosnowska & Aga Kozak
Prelegentki:
Anastazja Bernad
Kasia Hajduga
Samia Grabowska
Marta Sikorska
19.30 ● RYTUAŁ ZAMKNIĘCIA ●
Tanna Jakubowicz-Mount
20.00 ● SISTERS PARTY ●
Zagrają specjalnie na ten dzień zreaktywowane
MÉNAGE À TROIS i
WSPIERAJĄ NAS:
ofeminin
Hagi Cosmetics
Nanny Bell
G'rls ROOM
Ładnebebe
wysokieobcasy
Uroda Życia miesięcznik
Zwykłe Życie
ORGANISERS: Sisters of Europe Polska:
Marta Majchrzak – badaczka i współwłaścicielka OH LALA, Marianna Grzywaczewska – właścicielka Cloudmine i organizatorka targów Bakalie, Natalia Sosin Krosnowska – dziennikarka i pisarka.
OH LALA | Cloudmine | NousNous
Back to: Cross-border projects